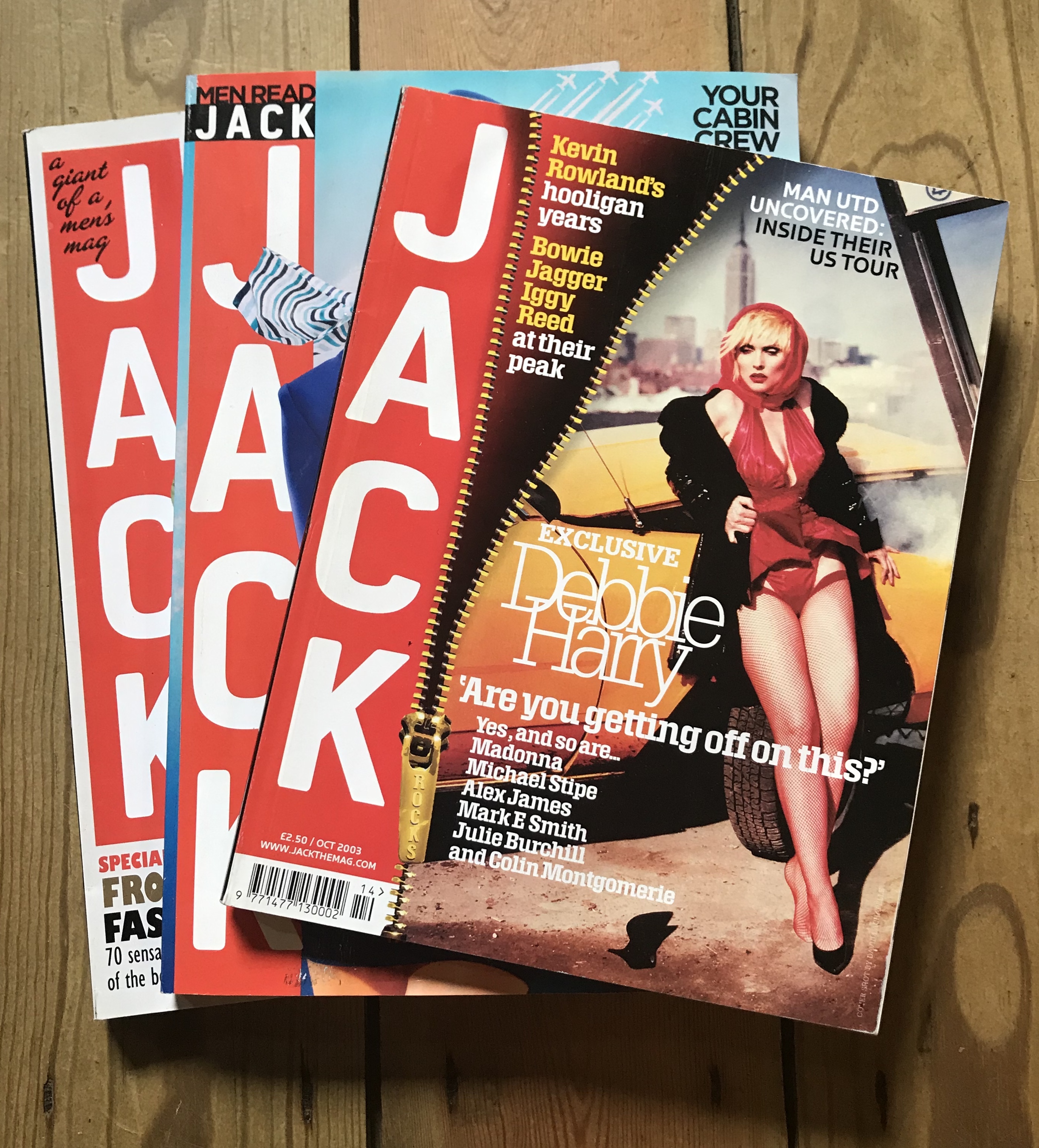 Back in the early Noughties, I was looking to edge out of my sportswriting pigeon hole and noticed that the new men's magazine, JACK, had a regular business Q&A slot, so I thought I'd pitch a few ideas. One of my first interviews was with the founder of YO! Sushi and wannabe rock god, Simon Woodroffe. Woodroffe proved to be an entertaining interviewee, who, in a memorable Brent-esque moment, even sang to me. He was also an enthusiastic participant in the photo shoot that followed, playing air guitar while executing rock 'n' roll scissor kicks with impressive gusto for a 52 year old. Sadly, I can't find the copy of JACK where the interview and photo appeared (it was was around November/December 2004/January 2005, if anyone has it… ). Of even greater regret is that Woodroffe's concept for a chain of funeral directors called YO! You're Dead never came to life…
Nigiri with Attitude
Simon Woodroffe, founder and chairman of YO!, traded stadium rock for cold fish with rice…
A school leaver at 16 with three 'O' levels, Simon Woodroffe flirted briefly with the theatre before getting into rock 'n' roll as a roadie. From there he moved into stage design and his production companies presented some of the biggest live events of the 70s and 80s, including Live Aid.
By the mid-90s, he fancied a change and came up with the idea of a conveyor belt sushi bar and the name YO!. Since then, by offering robotic drinks trolleys at YO! Sushi restaurants and self-serve beer taps at YO! Below bars, the company has lived up to it's Constant And Neverending Innovation (CAN I) motto. And Woodroffe's latest proposals for YOTEL! ("Think Japanese capsule hotel meets the aeroplane of the future to provide space-age but economical city accomodation", he says) and YO! Zone (an "outrageous version of a spa") should maintain this reputation.
When he's not coming up with new ideas, the indefatigable Mr Woodroffe is also in high demand as a motivational business speaker. Oh, and he writes songs too…
What was the first job you had and how much did you earn?
My first proper job was at Richmond Theatre as a Student Assistant Stage Manager. It was 1969, I was 17 and I earned £8 a week. When I became an ASM it went up to 20 quid.
What was the worst job you ever had?
It was a school holiday job working in a Milkivit factory in Cambridge, which manufactured powdered milk for cows. My job was to unload the pallettes. I thought it'd be a great because I'd get fit, but all I got was knackered.
Would you do it again?
Maybe not that job, but I would do a job that would really get me fit. I like physical work, and I don't do much of it.
How did the company come about?
By the mid-90s, I'd been in the entertainment business for 25 years and was working a freelance consultant selling TV rights which didn't satisfy me. I was over 40, I wanted to be rich, famous and successful and I felt my time was ticking away. A Japanese acquaintance suggested I open a conveyor belt sushi bar and I came up with the name YO! After two years development, I launched my first YO! Sushi restaurant in Poland Street in 1997. I soon realised it could be a chain of restaurants, and then I realised YO! could become a brand like EasyJet and Virgin, hence our expansion into other areas.
Where did you get the money from?
I'd just got divorced, and I only had 150 grand in assets in the whole world. I invested all of that plus a 100 grand from the government loan guarantee scheme, 50 grand from a friend I met on the streets of Paris and got some very expensive leasing. The start-up costs of the first YO! Sushi in Poland Street, London, were about 600 grand. Big investment… but a very big return as well!
What's the turnover?
The whole YO! group turns over about £15 million.
What's been the hardest thing about starting your own company?
Paying the bills early doors. When I opened the first YO! Sushi, I signed the contract with builders before I had the finance. Luckily, I'd made some small deals with Sony (they provided some TVs and sound equipment), Honda (lent me a delivery bike) and All Nippon Airways (a few upgrades). They didn't give us much but it was a big deal to have their names associated with us. The builders assumed I was a big hitter and that they'd get their money.
Who do you discuss your key decisions with?
Robin Rowland is the MD of YO! Sushi, I'm developing YO! Zone with which is a spa concept with Rob Gregory, Gerard Greene is the project director for YOTEL! and Alan Strang at Action Apparel is the licensee for our YO! Japan clothing range. They all their own show. I always say the businesses are their businesses and I'm there to help. The principle is that I'm financier to some extent, marketeer and mentor, but I don't want to run businesses myself, I'm not good at it. What I'm good at is making things happen.
How many people do you employ?
Hard to say exactly, because there are licences, but YO! Sushi alone has 400 employees, and I'd estimate that over 1000 people work on YO! businesses overall.
Who do you consider to be the best in your business?
Richard Branson. I think history will show that he is a long way ahead of his time. I'm a fan of anyone who gets up and does anything. I think before people criticise, there should be a deafening round of applause for anybody in this world who does anything.
Have you fulfilled all you professional ambitions?
No, you never do. This is very addictive. Why does Elton John still go on stage? It's because he loves doing it and it's very exciting to challenge yourself.
If you hadn't made it doing this what you have done?
I'd love to be a singer-songwriter. I've written a song with The Blockheads (yes, the late Ian Dury's band) and it took me 10 minutes. The keyboard player Chaz Jankel took a day or two to write the music, and then it took a day in the studio to record it. That's not what I'd call intense work, but the potential with a record is that you can sell millions!
I'm writing lyrics at the moment and I hope to release an album with The Blockheads. Most songs are love songs, and I thought the world could do without another one. Chaz told me, "It really pisses me off when people don't phone me back", so I wrote this.
(He pulls a lyrics sheet from his desk and breaks into song)
'There's a place I know in heaven,
Where every time you call,
The person on the other end,
Says that's no trouble at all.
And down the road from heaven,
In an alley by a shack,
There's a guy who's always there,
To make sure they call you back'
Er, lovely… What's the best bit of advice you've had?
If you are not sure you can do something, act as if you can do it until you start believing yourself.
What's best bit of advice you've got to give?
Go for it. I never met the person who went out to do what they really dreamed of doing and regretted it, even at the risk of financial insecurity and regardless of whether they later succeeded or failed. But I've met many people who look back and say, "I wish I'd done that when I had the chance."
What's the best decision you've ever made?
Opening YO! Sushi
And the worst?
Choosing to put YO! Sushi in the Millennium Dome. First, it was a nightmare to get into, second, we didn't get the number of customers we thought we would. Luckily, it only lasted a year.
At what key moment did your business change?
After we opened the fourth restaurant (there are 13 in Britain now, and two overseas, in Kuwait and Dubai) we'd become a proper chain. That's when we had to put a proper management system in place rather than the amateur night out it was when I was running it.
What's the best thing you've invested in?
Probably investing my time in going out on the speaking circuit – I do 60 or 70 speeches a year now. Not only is the money good, but it's created a lot of new business opportunities simply by the people I've met.
Would you rather be a highly paid employee or your own boss?
Highly-paid employee… (laughs) No, no way.
What's the best rumour your rivals have put out about you?
Well, there's one I put out that I was going to start a funeral business called YO! You're Dead… (He rushes out of his office and comes back clutching a folder) But look, I've got a file on it – It could happen!
What keeps you up at night?
I've relaxed a bit now, but when I was in the stage design business I had a lot of sleepless nights. When the wind's getting up and you're putting a bloody 10-ton roof over Neil Diamond or Bob Dylan, it's a bit scary.
Do you have an office drinks cabinet?
No, I don't drink at work. It's hard to believe but in the music business in the '80s, it was actually socially acceptable to take drugs during meetings! I wouldn't want to sit here and drink though – working is too much fun!
Company car, own car or driver?
I've got a company-branded A-class Mercedes. I also sometimes nip to meetings around London on the YO! To Go delivery bikes.
Have you ever quit dramatically or been fired?
I was consulting for a comapany on something called the 'The Great Music Experience' in Japan and I flounced out. I was selling the TV rights and I thought I knew better than everyone else. Looking back, I don't think I did!
Have you ever lied to get a job?
I've never, ever written a CV or had a formal job interview. I've certainly exaggerated to get work in, but never lied to get a job. I've got pretty high moral standards really – I should lie more often, but I don't.
What would you do with £5 million?
I'd take larger equity stakes in the businesses that we are building… or maybe invest it in YO! You're Dead.
When did you realise you were destined for greatness?
I've always had a rather grandiose view of myself, and that's caused me a lot of problems over the years. They say to be a great blues singer, you've got to have had the blues. Not to say I am a great one, but to be a great businessman I think you have to have suffered the arrows of outrageous misfortune.
Whose job would you like to have?
Lead singer with the Blockheads. Or Ken Livingstone's job, but only if I had a big enough budget and such an overwhelming vote that I was allowed to be a maverick mayor.
Which book or film has helped you in your career?
Heinrich Harrer's great book, 'Seven Years in Tibet', which was made into a rather bad film. It's the mixture of exploration and spiritual quest that made it a really inspiring book for me.
What's your best innovation?
I'm very proud of the YO! Sushi robotic drinks trolleys. You couldn't buy them on a street corner – I found the technlogy and developed them. But YOTEL! may be the most radical innovation yet. Hopefully, the first YOTEL! will open in London next year, but my criteria for opening is that it is as talked about as the London Eye was before it opened. If the launch is high-profile enough, we'll be able to licence them around the world.
How far ahead do you plan?
A long way and a short way. I'm very willing to adapt to opportunities as they come along. By the same token, I'm a real believer in planning beyond the tenure of your own benefit. I came across a company in Japan recently that has a 100-year business plan and I think if you have that sort of vision people want to work for you and customers buy into your brand too.
How much do you earn?
To borrow a phrase from Robbie Williams, I'm rich beyond my wildest dreams!
What's the long term vision?
That one day, in my lifetime, YO! will exist in many different markets with YO! the brand standing for radical thinking and constant innovation. I want people to look back and say that YO! just happened to be a sushi bar in its first manifestation.